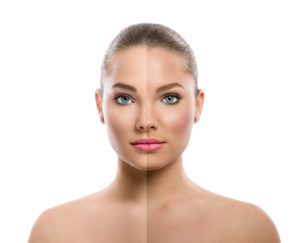 Everyone knows that one of the easiest ways to keep youthful, wrinkle-free skin is to avoid sun exposure. The sun emits UV rays that can age you prematurely, cause hyperpigmentation spots, and are also the leading cause of both melanoma and non-melanoma skin cancers worldwide.
So what should you do when you notice sun damage on your face? Peel it off! 
The VI Peel by Los Angeles-based Vitality Institute is a medium-depth, painless facial peel that is safe for all skin types. Five custom formulations allow users to tailor the treatment to their specific skincare needs. Boasting virtually no downtime and an arsenal of skin-nourishing ingredients, VI Peel lives up to the hype. 
How does it work? VI Peel penetrates deep down into your dermis, exfoliating and stimulating the production of new proteins like collagen. A potent blend of TCA, phenol, salicylic acid, vitamin C, and tretinoin combine to revive dull, rough, sun-damaged skin and give you a healthier, more youthful appearance. (more…)